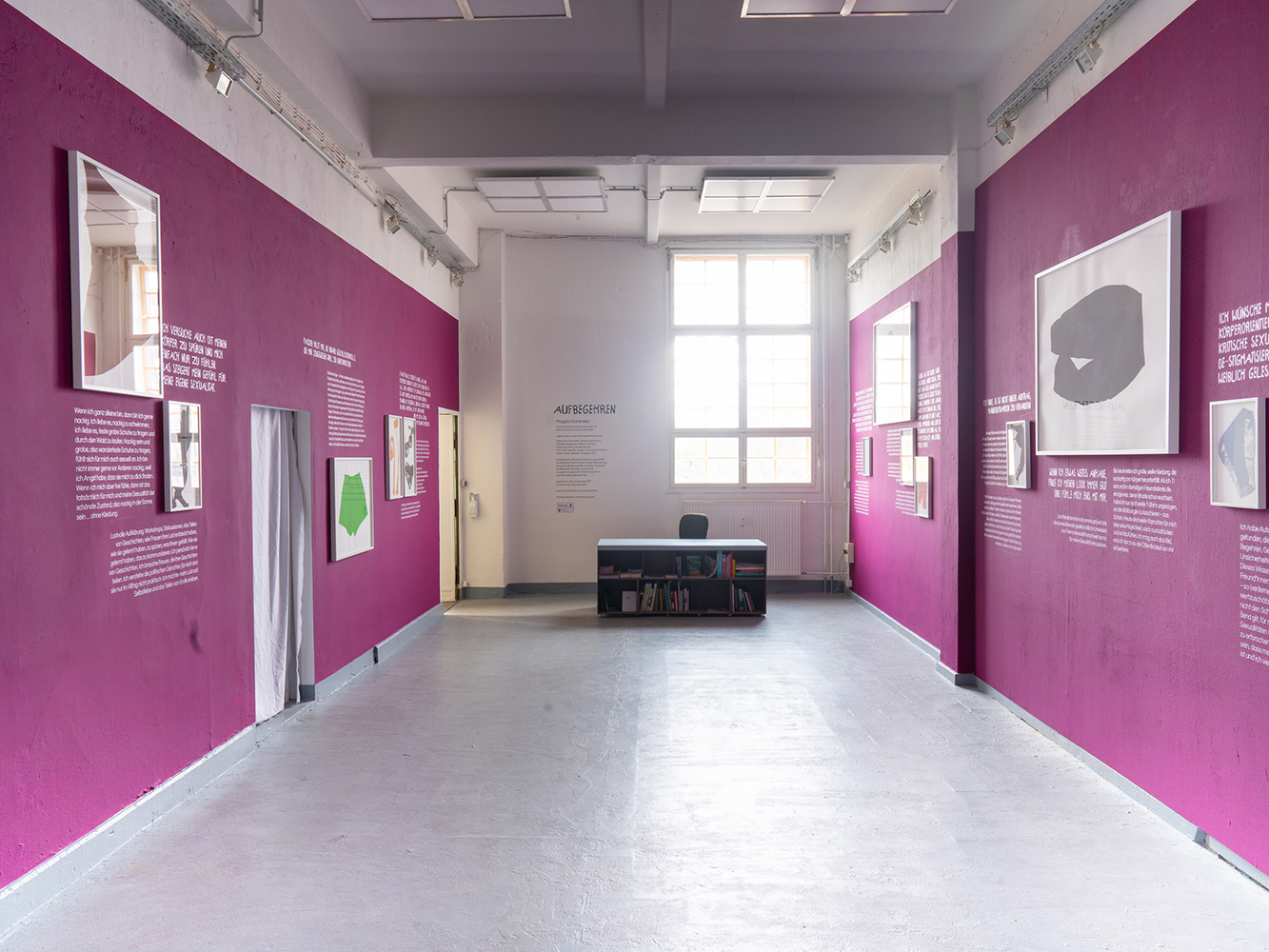 In her solo exhibition AUFBEGEHREN, Magda Korsinsky explores how patriarchal and sexist with racist, ableist, lookist and classist structures impact the sexuality of individuals affected by the aforementioned structures.
Combining silkscreen and text works, the artist explores questions about the meaning of the body and clothing in relation to sexuality and the rebellion and revolt against normative concepts and attributions.
The starting point is the artist's extensive research. In her interviews with those affected by multiple forms of discrimination, experiences with power structures and dynamics as well as strategies of resistance and empowerment come to the fore.
Interview excerpts manifest in a text collage and screen prints of the interviewed persons' clothes materialise what has been said. The combination of texts and prints creates a wall collage that, as a plural and intersectional overall narrative, bears witness to structural inequalities and social stigmatisation as well as to self-empowerment and personal processes of emancipation.

Many thanks to the interview partners Stéphanie Chevallier, Teresa Fagbohoun, Michelle Iyekepolor, Rebecca Kenny, Isabel Kwarteng-Acheampong, Thủy-Tiên Nguyễn, Sadie Lune, Sanata Narco, Miriam Salih, Saadya Windauer, NN.
Artistic assistance: Hannah Luisa Wolff
Grafikdesign Flyer / Poster / Online: Stefanie Rau
Exhibitionszenographie: Jarolsav Toussaint
Grafikdesign booklet: Jana Schulz
Protest Sign Font: Be Oakley (Gender Fail)
Many thanks to Ballhaus Naunynstraße.
Printed in the printing workshop at kulturwerk of bbk berlin.
With kindly support of Bezirksamt-Köpenick.