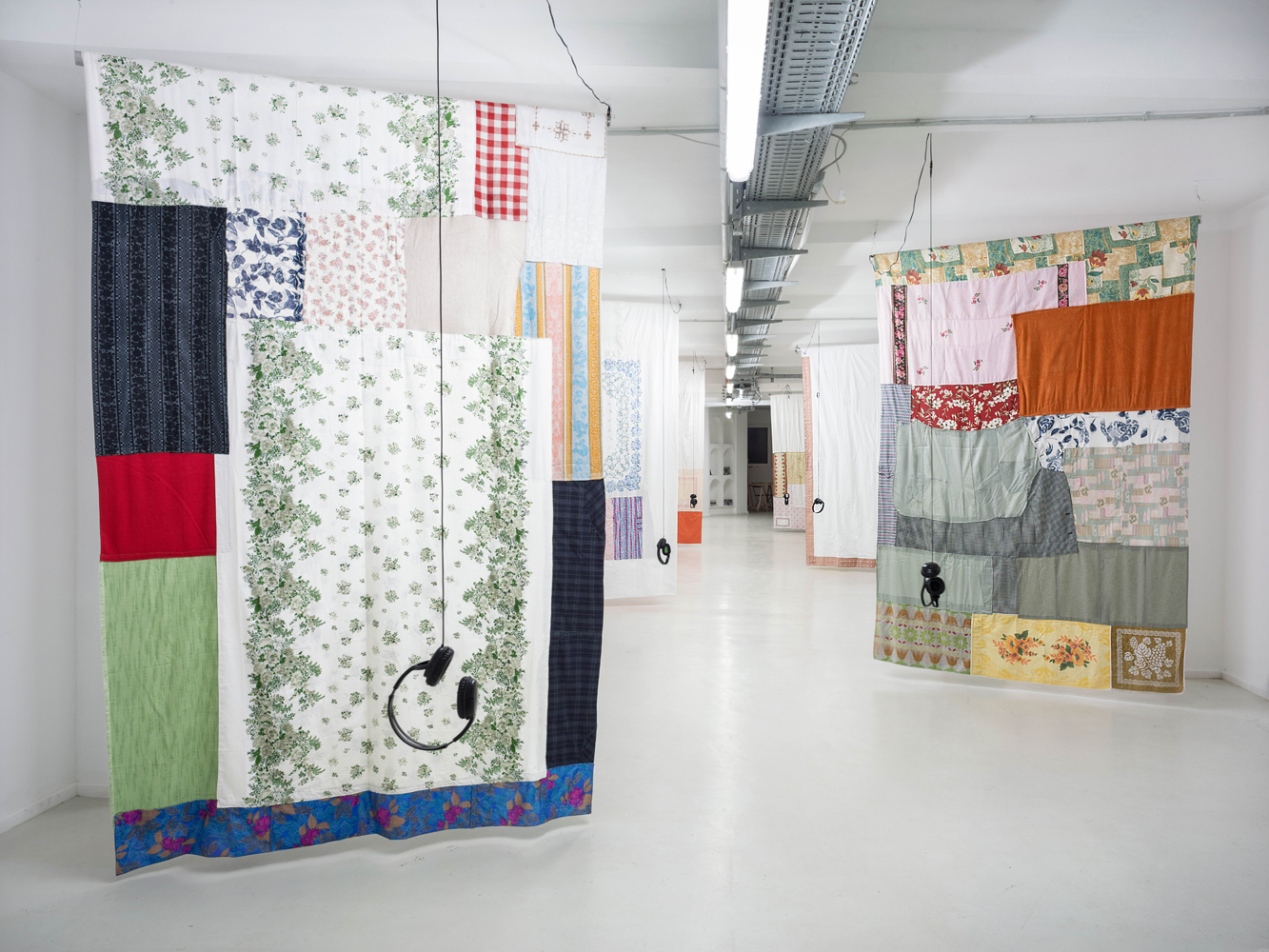 STRICKEN, the Installation
This project is based on interviews with Afro-German women whose white grandmothers lived during the times of National Socialism. How do different generations navigate these particular familial ties? Which values are transmitted from one generation to the next? Which are accepted, which criticised, questioned, changed, or rejected? What do Afro-Germans think about the National Socialist pasts of their grandparents? How does this knowledge influence their relationships? And how does it influence these women's own views of themselves?
The critical confrontation with the heritage of our ancestors, and how we traverse these patterns and entanglements, constitute the core of this interdisciplinary work.
This project is visually constructed through an expansive textile installation. The textiles used are fabrics from the everyday lives of the interview partners: inherited and worn remains of their German familial histories. They are sewn into large webs, like floating screens dividing the room. The interviews show how these Afro-German women question the National Socialist pasts of their grandparents, and reveal both familial intimacy and conflicts.
The inspiration for this work was the book My Grandfather Would Have Shot Me: A Black Woman Discovers her Family's Nazi Past by Jennifer Teege, who found out as a 38-year-old that she was the granddaughter of Amon Göth, the commander of a concentration camp.
"Whomever is related to Joseph Goebbels, Heinrich Himmler, Hermann Göring or Amon Göth, is forced to confront their familial history. But what about all the others, the many nameless followers and accomplices?" (Jennifer Teege)
With kind support of the Senate Department for Culture and Europe, Berlin
In collaboration with Ballhaus Nanyntraße.
Thanks to the interviewees Denise, Binta, Matti, Miriam, Shaheen and Stephanie.
Thanks to Nike Arnold, Friederike Erhart, Teresa Fagbohoun, Dana Korsinsky, Stefan Schmied, Jaroslav Toussaint, Magda Tuzinkiewicz und Sofia Vannini.